Where To Stay During Your Safari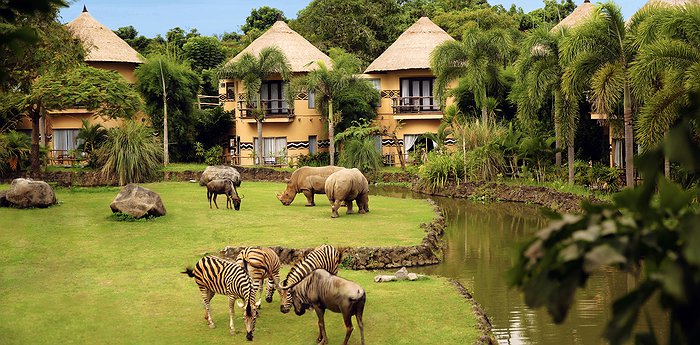 Accommodation is the great unexpected treat of African safari tours. Most people imagine safari sights on a game drive but very few are anticipating the quality of safari accommodation or the continuing immersion and wildlife viewing.  You'll be surprised at just how comfortable and luxurious accommodation can be in the bush. And like the mammals that grace the abundant landscapes, there's always something memorable and distinctive about each place you stay.
 What to expect as far as accommodations during safari
Accommodation whilst on safari in Africa is both varied and extensive and there is something to suit everyone's taste. It ranges from the ultimate in sophisticated luxury options (including private safari villas, lodges and permanently sited tented camps) to traditional safaris based on a variety of tented options (including seasonal, mobile or permanent camps). A 'tented' camp is such a broad term used in the safari industry and can vary greatly!  'Tented' primarily means that  all or part of the structure is made of canvas.
The permanent tented camps range from ultra luxurious  '6-star' accommodation with own sitting rooms, private decks,  swimming pools,  indoor as well as  outdoor showers and are commonly referred to as 'premier' camps.  The more classic structures, which are fully equipped with a variety of essential furnishings and all with en suite bathrooms, are commonly referred to as 'classic' camps.


Private Safari Houses and Villas are fast becoming a very popular option on safari. This style  is perfect for families wanting to share quality time together, groups of friends traveling together and guests wanting exclusivity. Each is fully staffed, has its own wildlife guides and private vehicles for game drives and some houses offer walking, canoeing and boating.They all offer privacy and space with the flexibility to arrange your own days out exploring or simply lazing next to your own private pool as you watch the game come to you!
A mobile tented safari will be a camping style trip where tents are set up for you in remote and beautiful settings. These are more typical in East Africa where the flexibility and mobility of the camps is well suited to  maximize game viewing,  particularly the migrations. Actual accommodation varies from simple dome tents to luxurious, classic style safari tents. In the majority of cases there won't be running water and facilities will comprise bucket showers and long or short drop loos. Meals will be taken outside under the stars!
The bush camps are similar to the tented safari camp but are usually in remote areas and will often be taken down at the end of a season, so they may also be known as semi-permanent camps. Bush camps are  prevalent in Zambia, where seasonal walking safaris are very much the focus for travelers. Some of the camps will be canvas tents and others of timber construction. Most will have en-suite bathrooms but many will have long drop loos and bucket showers rather than running water. Most bush camps will have simple bar and dining areas for guests to congregate in at the end of the day.


Safari Lodge / Game Lodge
Safari lodges are classic places to stay, elevating the landscapes' beauty with eternal panoramas and high levels of comfort. They are permanent structures, carefully built within an environment, usually in lofty positions with commanding views. Being permanent, this is where you encounter many traditionally sumptuous extras, like infinity pools with a view or elegant bar areas and restaurant terraces. From budget to five star luxury, safari lodges are a combination of Western hotel amenities and a gentle immersion in the wild. In general, they're larger and cater for more guests than other accommodation types, but you should still expect space and personal touches.
Wildlife is always on show and relatively predictable (not for guests, but for the lodge). For example, a particular elephant herd comes to drink just after dusk each day, a monkey troop prowls in the dawn hours or a herd of waterbuck is known to favor the profuse grass beside a wing of rooms. Many erroneously think that a large lodge will scare away wildlife. It's true initially, mammals fearful of the noise of foreignness. Over months and years, the lodge becomes just another part of the landscape, animals adapting to live alongside it. But it's the panoramas that are most seductive, hours gently floating away as you gaze upon a landscape of treasures. Lodges excel in ensuring the vista is unbroken. Many have outdoor showers with a view. Bars and restaurant areas gaze over the landscape. Some rooms have floor to ceiling windows, the natural spell continuing while you're led to bed each night.
Why Stay at a Safari Lodge
Most amenities closely resemble a western-style hotel, with piped hot showers and flushing toilets.
Bathrooms look and function like a bathroom you'd find anywhere in the world. There will be mirrors, and thick bathrobes.
Electricity and hot water usually run all day, although lodges in very remote areas may limit this to a few hours in the morning and evening.
Catering for larger numbers of guests helps them to provide unique luxury touches like infinity pools or opulent bars.
Lodges typically have sublime views and regular visits from wildlife.
Much like a hotel, visitors often have the choice of a variety of rooms, with deluxe or honeymoon options.
Popularity: Lodges are found all over Africa, in national parks, wilderness areas, cities, and private reserves. They're the most ubiquitous of the continent's accommodation options. 
Hotels And Guesthouses
Like anywhere in the world, Africa's accommodation market swings from the squalid to the opulent. You'll find major international chains and business hotels, but the market is dominated by small guesthouses and locally managed establishments. "Boutique" is a buzzword in the Western travel industry, yet it's something that many African hotels and guesthouses have been doing for decades, their proud inimitability and intimacy arriving far before the term boutique was popularized. Even large beach resorts have a certain idiosyncrasy, reminding you that a tropical getaway image can also be indelibly African.
There's a strong inclination to be as modern as possible. While the West often finds delight in things that are old, Africa is enjoying this recent opportunity to become modern. Homogenized styles are rare, especially at mid to high-end level. Like safari lodges, hotels and guesthouses seek to provide something distinct and memorable, often blending with their environment, from a wooden chassis besides a montane forest or a thatched palm roof near the beach.
Like Europe or America, quality varies significantly and is reflected in the cost. Many visitors think about Africa and expect the accommodation quality to be below what's found elsewhere in the world. This works on the standardized preconception that Africa is economically poor, bringing thoughts of squat toilets into the average hotel. The continent's tourist infrastructure has developed rapidly, and a mid-range hotel is comparable to a mid-range hotel elsewhere in the world, both in quality and cost.
Why Stay at Hotels and Guesthouses
Mid to high-end hotels and guesthouses are comparable in quality and cost to those found in Western countries.
They offer good quality accommodation that's used pre and post safari, as well as when arriving in a country.
The excellent amenities are often elevated after returning from a multi-day safari, the comfort of four walls helping you return from the natural world.
Africa's guesthouses are boutique by nature, likely to provide an intimacy and idiosyncrasy to each night of an itinerary.
Star Graded Hotels / Accommodations
Like in Europe or America, the differences between four and five-star properties can be vast, and anywhere rated as five stars will imbue a universally accepted notion of luxury quality. In Africa, five star reflects the elite of what's on offer with increased exclusivity and personal service. However, with star grading continuing to be implemented, it's not uncommon to find excellent properties that aren't part of the system. In particular, mobile camps and luxury tented camps don't seem to fit within existing parameters. Some without electricity would struggle to reach a one or two-star rating, yet provide the attentive luxury and exclusivity of a five-star boutique resort. As a result, some of the continent's premier accommodation prefers to focus on international recognition through membership of bodies like the Leading Hotels of the World or the Five Star Alliance. Competing and comparing against the world's best five-star hotels provides an additional affirmation of quality.