We mainly use 4 x 4 safari land cruisers and safari customized vans. All the vehicles we use are safari customized with top hatch for easy game viewing and are fitted with high frequency long and short range radio for communication; the vehicles are also furnished with wifi. 
SAFARI FLEET
We have vehicles that are specifically configured for wildlife photography.  All of our vehicles are also fully seat-belted for safety and come with air-conditioning. They also go through safety check and are thorough cleaned before each departure. They remain under scheduled maintenance to ensure providing you with ultimate safety and comfort.
With our experienced drivers and tour guides, we have the capability and expertise in handling all your very specific ground transport requirements from a small group of family to a large group of corporate coach charter. We are passionate about what we do, which makes us reliable in consistently delivering on all our promises; whilst offering an exciting opportunity for exploration, discovery and adventure.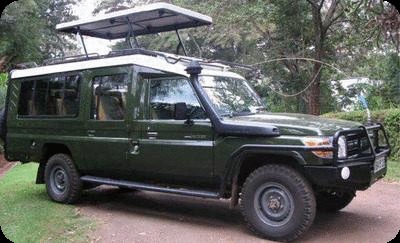 4x4 Land Cruisers rents at US $ 165 per day including a driver / tour guide. 
These 4×4 Land Cruisers have fully opening side windows, enabling photographers to photograph animals on every angle. 
It seats 7 comfortably and each person has a window seat
The vehicle is safari customized with custom shock absorbers and top hatch for game viewing and photography
It contains a cool box to store drinks and water
The vehicle is custom built to provide ample leg room
It comes with a professional safari driver guide
Our package prices includes vehicle fueling and driver's allowances
Also our package price includes vehicle and park entrance fees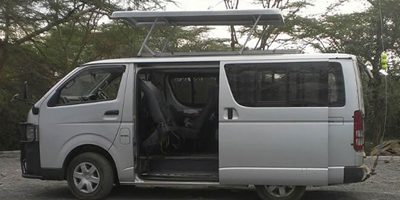 Safari Customized vans rents at US $ 95 per day including a driver / tour guide. 
It seats 7 comfortably and each person has a window seat
The vehicle is safari customized with custom shock absorbers and top hatch for game viewing and photography
It contains a cool box to store drinks and water
The vehicle is custom built to provide ample leg room
It comes with a professional safari driver guide
Our package prices includes vehicle fueling and driver's allowances
Also our package price includes vehicle and park entrance fees
GENERAL OTHER TRANSPORT FLEET